Alwyn Raymond Downe. Sergeant 406326
His journey to the UK started on 8th July 1941 when he departed Perth, Australia. Almost 2 months later on the 2nd September 1941 he arrived in the UK. 3 Personnel Reception Centre, Bournemouth was his destination. On 16th September 1941 he was at 11 Operational Training Unit, Bassingbourn.

On 6th November 1941 he was posted to 458 Squadron, and from 14th February 1942 he was based at RAF Holme on Splading Moor. 458 Squadron Unit Records show that he flew at least 4 Operations from mid November 1941 to end December 1941, with James Clark as Captain, and the same crew members on each Operation. Targets were mostly in France and Belgium. In a group photo taken at the RAF Station at Holme-on-Spalding Moor circa February 1942, he is listed as being the Rear Gunner of 'X' for XRay crew, with David Maitland Watts as Captain. So far no records have been found listing any Operations that this crew undertook while base at RAF Station Holme.

Further training was undertaken at 21 Operational Training Unit, Moreton-in-Marsh, from 18th May 1942.

The time came to move from the UK and Operations over Europe, to Egypt and Operations in the Middle East. His journey started at 10 Aircraft Delivery Unit on 21st June 1942, and he arrived at 22 Personnel Transit Centre, Almaza, Egypt, on 25th June 1942. Further training was completed at 2 Multi Engine Training Squad, Shallufa, Egypt.

It was during his time attached to 148 Squadron that he flew his last mission. On 4th September 1942, Wellington 1C DV 893 was being flown by Captain by James Clark, with Alwyn in his usual position as Front Gunner. Due to poor visibility, they struggled to locate their base as they returned from their Operation. As they attempted to locate their base, they struck rising ground that no crew member had seen. Alwyn tragically lost his life from severe injuries sustained in the accident. The 2nd Pilot, J Sounden, sustained multiple injuries and the Navigator, P Hall, broke his ankle. The rest of the crew (including the Captain James Clark) were unharmed. Sergeant Alwyn Raymond Downe's funeral was held later that day, and he was buried at the Heliopolis War Cemetery in Cairo, Egypt.

His wife Edna Downe received a letter from James Clark, and the promise of photos from the funeral.
On the 24th November 1942 his brother Horace Cyril Leslie Downe enlisted in the Australian Army in Scofarera, Western Australia. He was discharged on the 21st November 1944.
Note: Alwyn's mother is alternately referred to as Katherine/Katharine and Kathleen. Not sure whether this is just due to typos, or whether she was known as both Katherine/Katharine and Kathleen. Her middle name is listed as both Marian and Marion.
David Maitland Watts wrote on the back of a photo of Morris David Hart that he was the Rear Gunner. Australian War Memorial photo shows Alwyn Raymond Downe as being Rear Gunner of 'X' for Xray. Currently no Operations records can be found to verify that he actually flew with 'X' for Xray, and therefore can't confirm whether he ever did act as a Rear Gunner.
Written by Catherine Owen. Great Niece of 458 Veteran David Maitland Watts.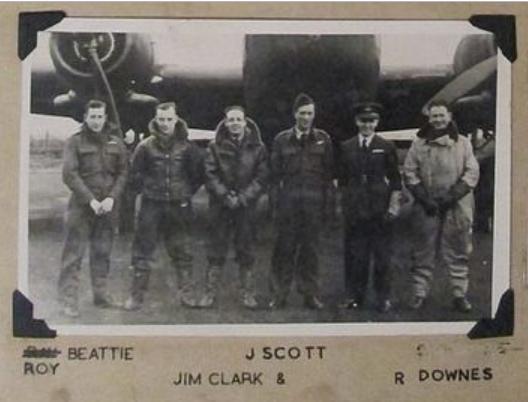 With 458 Squadron RAAF. Holme on Spalding Moor, UK, circ 1941-42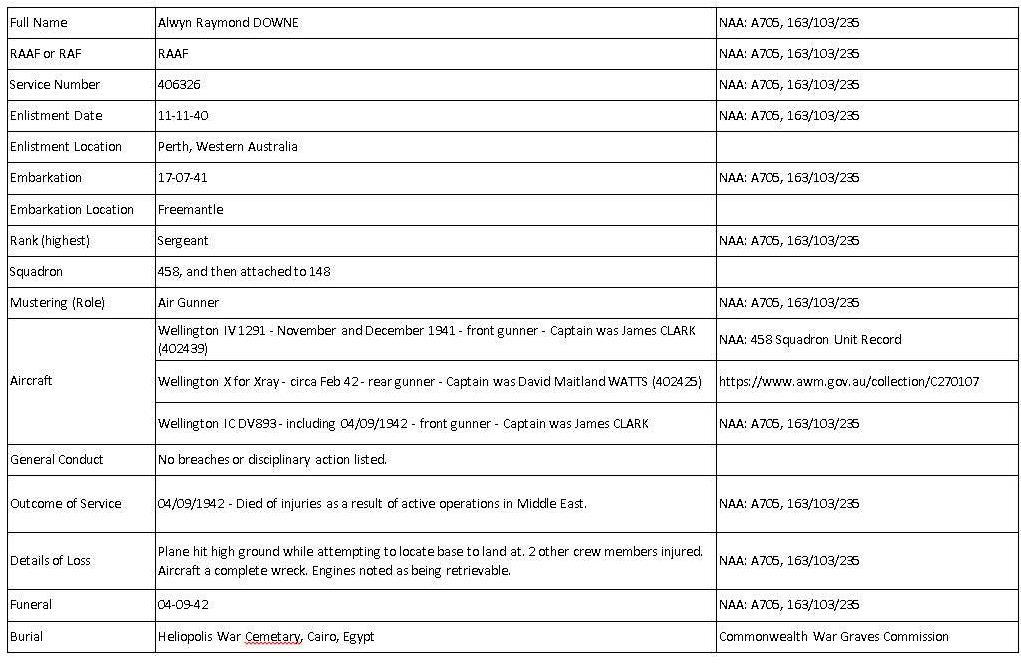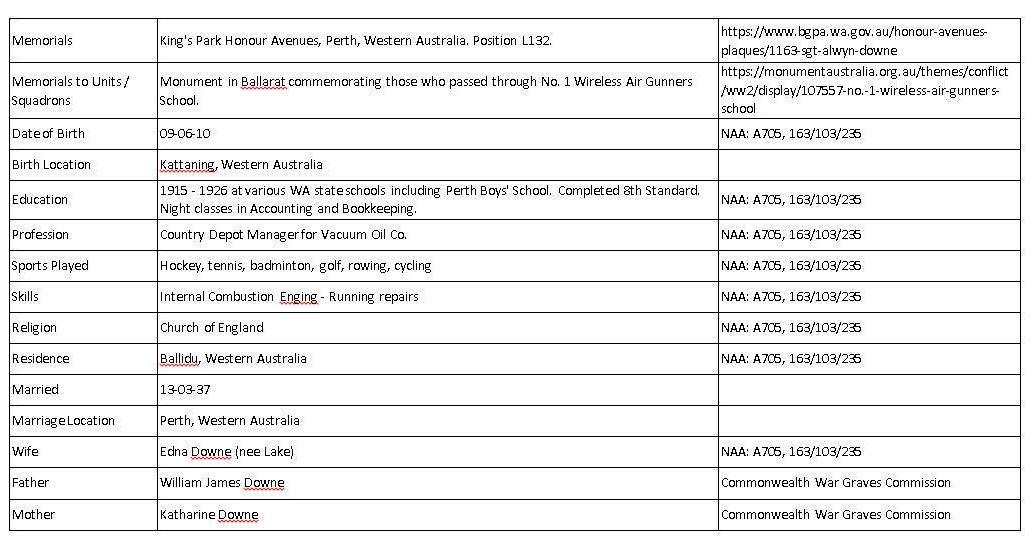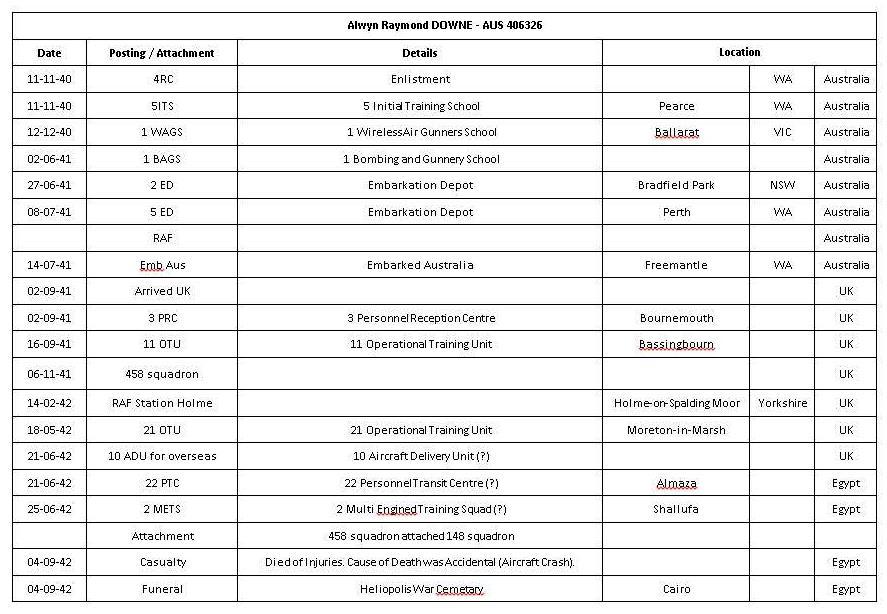 Memorials to Sergeant Alwyn Raymond Downe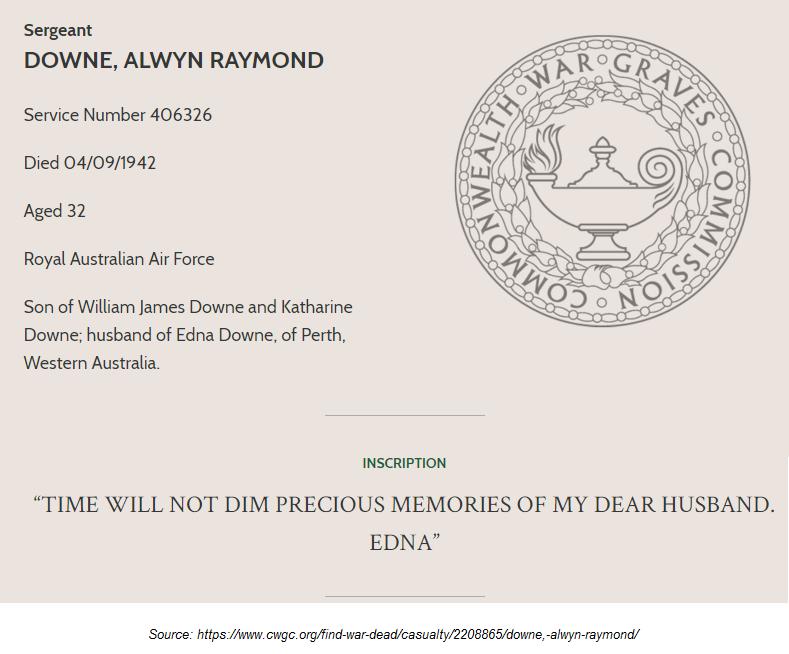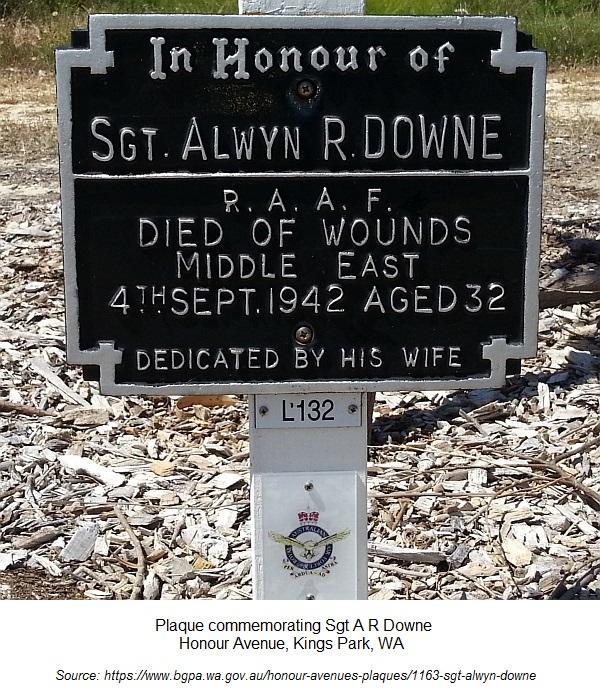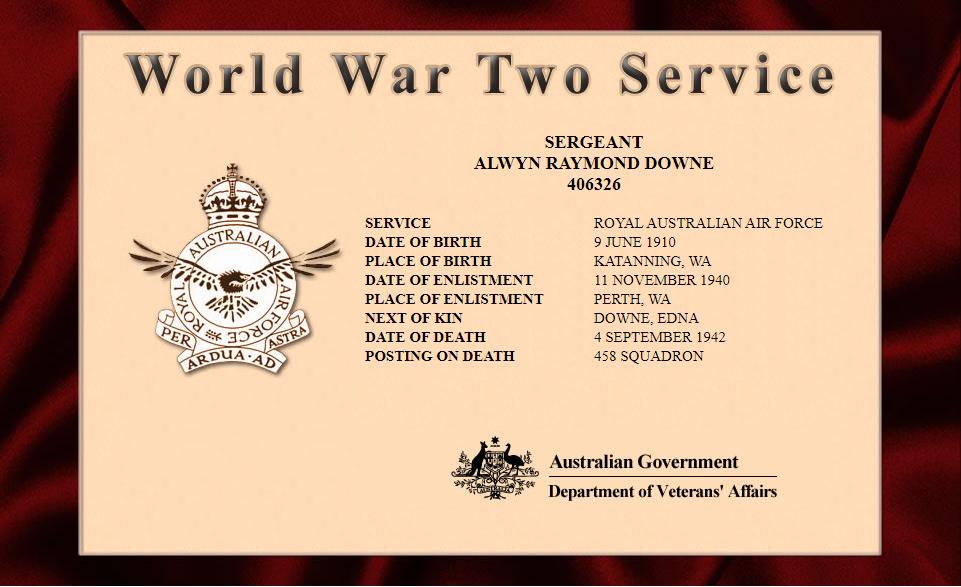 Pages from A.R.Downe RAAF Accident Report
Newspaper clippings relating to A.R.Downe