F/Sgt David Maitland Watts 402425
David "Tony" Maitland Watts was born in Sydney, NSW on the 9th of January, 1919. His parents: David Walter Montague Watts and Edith Mabel Watts (nee Hawker). He attended Petersham Public School and then Fort Street Boys High School (1930-35), where he was a prefect and played in the First XV (1935). He gained his Leaving Certificate (November 1935) with English and Maths Honours and passes in French, Latin and Physics. He was a keen member of the 1st Petersham Scouts and went on to the Rovers. David attended Andrew McCallum Presbyterian Church Marrickville and played B1 Grade competition tennis team in 1937. He was awarded a cadetship with the AMP Society upon leaving school and commenced studies to become an actuary.
In Sydney on the 19th of August, 1940 he enlisted in the RAAF. A true hero with a heroic and tragic story outlined in his Service Record below. A photo of Dave (and mates) appears on page 193 of the Squadron's Official History, "We Find and Destroy". One of Dave's crew, Morry Hart is pictured here.
He is remembered with Honour at the Alamein Memorial in Egypt. Memorial reference column 266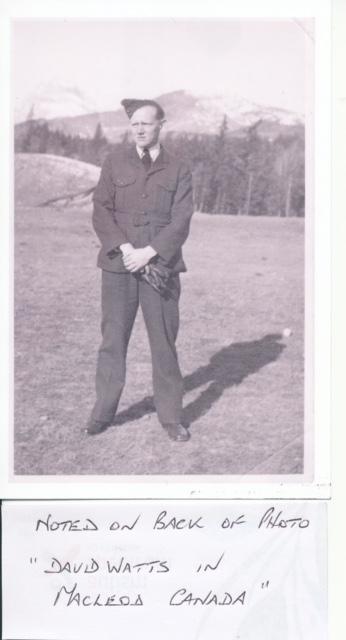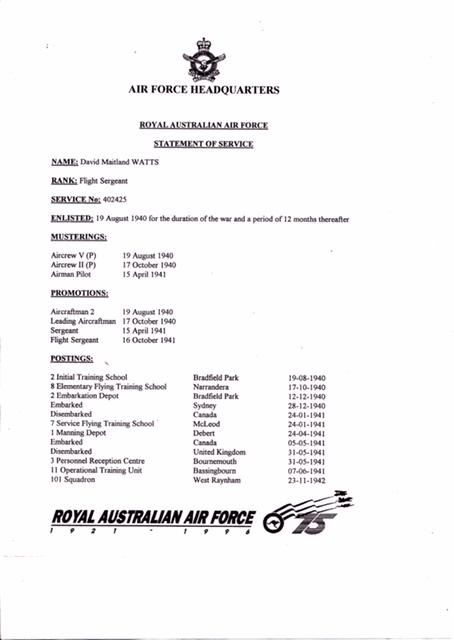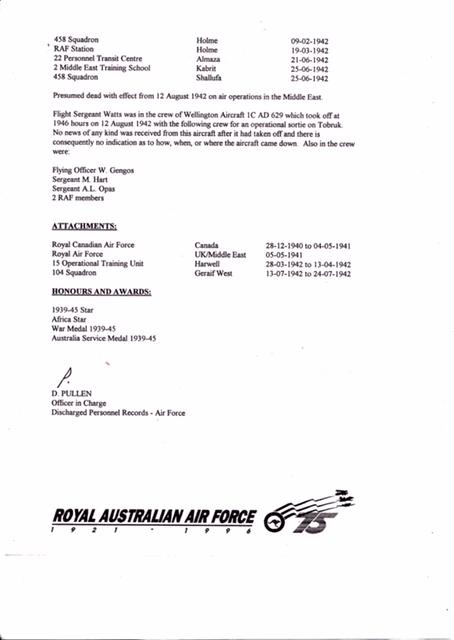 Catherine Owen is Great Niece to David Watts and adds an interesting piece to add to Flt Sgt Watts' story.
My grandmother's beloved cousin David Maitland Watts (Tony to family) was in 458 Squadron. He was lost flying out of Egypt while with 108 Squadron. One of his crew members was Athol Opas. I've been lucky enough to be in contact with Athol's youngest sister who now lives in Israel.

Brock Kirby is a Canadian whose uncle (or great uncle) was in 108 Squadron with Tony and Athol in Egypt. As a hobby he researches and creates videos about servicemen. He saw that the Australian War Memorial had listed some memorabilia for Athol Opas was held by the Australian War Memorial. I was able to pay (a very reasonable price) to get those items digitized. They are now available for anyone to view at
https://www.awm.gov.au/collection/C2872694.
Through Athol's log book I have been able to find out that while Tony did not fly any Ops for 458 Squadron, he did fly a number of times for training and other purposes. It also shows they did 2 Ferry Flights to Egypt, then were seconded to 108 Squadron. Both of these were things I was very keen to know about, but previously had no information.
Brock Kirby also put me in touch with the niece of William Gengos, Wendy Frere. Her mother (Bill's sister) has passed away, so didn't know of our connection.
Thanks,
Catherine Owen