DVA Launches On-Line Interface
May18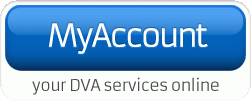 Minister for Veterans' Affairs, Warren Snowdon said the MyAccount website was a new innovation in service delivery for the veteran and Australian Defence Force communities.
"MyAccount is an online service centre where clients can engage with the Department anytime, anywhere and all they need to get started is a computer and internet connection," Mr Snowdon said. He said MyAccount offered a variety of services including ways to view and request forms and factsheets; book transport to medical appointments; view payments and card information; request replacement cards; lodge travel claims; request additional entitlements; change contact details; and view the status of claims. Mr Snowdon said the service would not replace traditional means of communicating with the Department but provided another channel in which to engage with it. "Change can be a good thing," he said, "and I assure the veteran community that this service is not the end of traditional ways of communication – you will still be able to contact DVA via phone, face to-face, fax, email or mail. "The Department will also continue to contact you using these channels." He said the service was optional and veterans who wished to set-up an account could phone 1800 173 858 to receive a personal registration number.
"Our priority is to make sure we look after those who have sacrificed so much for this country - Australia's 350,000 veterans and their families."
---