During the depression years of the 1930s, the family was split up and farmed off to various "foster" (?) families and this is how Lisle ended up on the "mainland". After gaining his Leaving Certificate at Northcote High, he worked as a Salesman at Fred Hesse's Menswear Store (Be smart and be dressy in clothes from Fred Hesse! So said the advertising slogan played during VFL [Victorian Football League – now know at Australian Football League] football game commentaries) and later at E.W. Mepstead's Menswear Store both in Swanston Street, Melbourne.
On 29th April 1940, he enlisted in the RAAF to support the war effort. I always thought that this was an act of younger brother following older brother into the RAAF, but service records show that Dad enlisted some 14 months before Lance, who was seven years older.
As with many 458ers, Lisle saw service in RAF Squadrons 216 in the Middle East and 117 in the ME and India and Burma. In fact, there was so much to-ing and fro-ing between 216 and 117 squadrons, that Lisle was only a member of 458 RAAF Squadron for just over eight months from 3rd October 1942 to 12th June 1943. However of course, being an Aussie, 458 RAAF was the squadron he identified with very strongly.
How did he acquire the nickname Woozle? It appears that it was bestowed upon him very early in his service with RAF 216 Squadron. 216 (no doubt) being a stiff-upper-lip Royal Air Force Squadron, carried on that quaintly odd tradition of endowing its members with quirky nicknames like Biffo and Smudger and Bobo, etc. Wurr had them scratching their heads for a while til one of the Poms saw the analogy between Wurr and mangelwurzel. Mangelwurzels appear to be a root vegetable (of questionable appetite enticement I would suggest!!!) of English and European heritage. So Lisle was dubbed Wurzel. This evolved into Woozle, a handle that Lisle proudly wore during his WW2 years and beyond.
All told, Lisle did two tours of duty with 216 Squadron, one with 458 and two with 117 before it was finally over. His service records show he was appointed to Pilot Officer on 1st September 1943, and to Flying Officer on 1st March 1944. He was awarded the following medals. 1939-45 Star; Africa Star; Burma Star; Italy Star; Defence Medal (I think this is the one which Dad called the EBGO --- every bugger gets one!); War Medal 1939-45 with Oak Leaf* and the Australian Service Medal 1939-45. *The Oak Leaf on the ribbon of this medal signifies the awarding of a Mentioned in Despatches (London Gazette 1st January 1945). I still have the gilt-framed certificate issued in conjunction with this award, but thus far I have been unsuccessful in ascertaining why Dad was awarded it. My younger brother Tim has custody of Dad's medals and wears them proudly on Anzac Day every year.
Planes which Lisle flew in during his service years were the Avro Anson "R" and Fairey Battle during training in Australia; Dakota III (I believe these were the military version of the Douglas DC2 and DC3s) with 117 squadron in India; Bristol Bombay with 216 squadron in Egypt; Vickers Wellington (both Mk.1C and Mk.8) with 458 in the Middle East, and Lockheed Hudson during a second stint with 117 in the Middle East. Interestingly, other types of aircraft which Lisle had flown in, as entered into one of his two extant Flying Logs, but not noted on his service record sheets, are Vickers Valentia; Lockheed C57; DeHavilland DH 86B and the Waco CG4A Hadrian glider.
Lisle's service in 458 Squadron RAAF is detailed in two Flying Log books which are in my possession. Entries are extremely succinct, but they do include the Pilot's names. First up was Sgt Dean, This was the well-known 458er Bruce Dizzy Dean (more of him anon). Others listed are F/O Jackson, Sgt Cobb, Sgt McFadden, Sgt (Jimmy?) Munday, P/O Hughes, W/C Johnston and Sgt Somers (458 Nominal Roll shows Somers as a Royal Canadian Air Force serviceman).
With the exception of one or two humorous anecdotes, Lisle never spoke of his service experiences during the whole seven years and two months he was in the defence forces. The only anecdotes I recall from his service overseas was once being eclipsed by a high-powered German staff car on a good road in Egypt, as they struggled along in some old "crate" in the air. Apparently the Merc was more of a goer than the plane! Another time when serving with an RAF squadron, they received a batch of fresh passionfruit. The Aussies were into them. Dad asked one of the English squadron members what he thought of the fruit. "Be orright when I get rid of veez lil black fings"!!!!!! Dad related that dropping empty beer bottles out of planes, created a loud whistling noise and it was amusing to watch those on the ground, ducking for cover when they did!!!!!!!!
Lisle's only known wounding was a chunk of shrapnel embedding itself in his skull behind the left ear. It happened when some flak went off close by, as he was bundling supplies out the door of a plane in flight. He was treated at Kantara (El Qantara) Hospital south of Cairo, although there is no mention of this in the hospitalisation section of his records. However, curiously, his war records show him being admitted to a hospital in Tel Aviv --- at a time when he was actually at Evans Head!!!
Following the end of his active overseas duties, Lisle embarked from India on 13th October 1944 and arrived back in Melbourne on 27th October 1944. Again, the ship is not noted.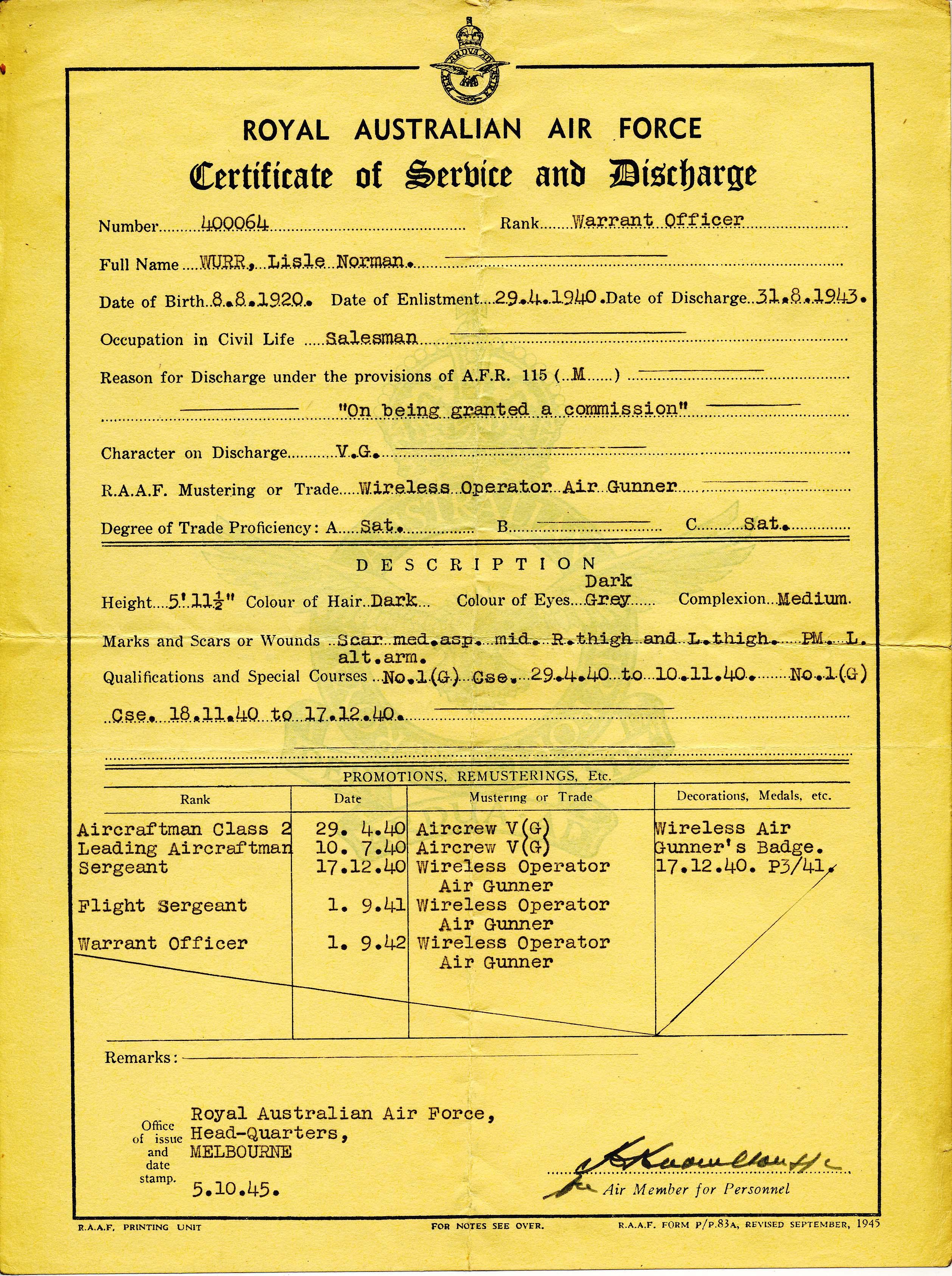 He was immediately assigned to No.1 PD Melbourne, then to No.1 OTU at East Sale on 30th December 1944. He was granted seven days Leave starting 15th February 1945 and was quick off the mark. He married Patricia on Saturday 17th February at St. Judes Church of England in Lygon Street, Carlton and they whipped off down to Flinders on the Mornington Peninsula for a very quick honeymoon. 27th August 1945 saw Lisle back at No.1 PD in Melbourne and two days later he was transferred to the RAAF Reserve. War service records can be quite difficult to follow, however his record shows that Lisle's appointment to the Reserve was terminated on demobilisation on 1st July 1947. However, that wasn't the last they heard of Woozle Wurr! An Application for Enrolment in the Air Force Reserve is part of Lisle's service records and is dated 14th July 1949. His occupation given in this application is Primary School Teacher. Lisle did primary teacher training at Melbourne Teacher's College following discharge from the RAAF Reserve in July 1947 and by the date of applying to re-enlist in the Air Force Reserve in July 1949, had completed his teaching qualifications. This part of Lisle's career is unclear, but lack of further service records seem to indicate that his application for a second round in the Reserve was turned not required. Lisle's teaching career began at Helen St., Northcote, then on to Albert St., Brunswick; Brighton Rd., St.Kilda; Brighton Beach and to Hornby St., Windsor.
I was born in March 1952 and we lived in a one-bedroom flat in West St.Kilda. Five years later my younger brother Tim was born -------- and the one bedroom flat was getting a bit too cosy! Dad sought promotion to Head Teacher and on achieving this, the family transferred to Tooradin, on the northern shores of Westernport Bay. A departmental residence with three bedrooms – woo-hoo! In the years before this move, Lisle was actively involved in 458 Squadron Association functions, especially the Anzac Day March. He maintained a friendship with Dizzy Dean throughout those years and when Dizzy sold up all his worldly possessions to move to the Gilbert & Ellis Islands as some sort of Trade Agent in the later 1950s, Dad bought his old Triumph Mayflower car. Other squadron member's names I recall from those childhood days are Bill Carr (Dad had an interest in photography during and after his service career and we would occasionally whip out to Kodak at Coburg to see Bill --- and come home with a box of photographic paper!). Hank Martin drove a Yellow Cabs taxi (a diesel Mercedes!) and as he lived in Robe Street, St.Kilda, he was often on the rank outside St.Kilda Railway Station in Canterbury Rd. Many times I recall us getting off the train and Dad and Hank having a good old yarn sitting in the Merc. There was Shorty Wilson, Jacky Jenkins who lived in Seaford, Norm Cugley from Coburg and others who didn't live in Melbourne, like Ken Brown, a dairy farmer at Katunga, north of Shepparton whom we visited one time, Ted Kennedy who ran an Atlantic service station just around the corner from Pat's mother in Ballarat copped a regular ear-bashing on family visits, and a marathon road trip to Adelaide in about 1957 in Dizzy's old Mayflower to visit Nick Bertram. There was Harry Ashworth, a plumber with his business near the Prahran railway station and Russ Zenner.
Following the move to Tooradin at the start of 1961, Dad hosting the annual 458 Christmas Get-together at our house and the adjacent school yard. This ran until we moved at the start of 1966 ---- and involved ed kids getting presents from Father Christmas and parents getting hangovers from too much beer! From the start of his tenure at Tooradin, Lisle saw the need for some sort of organised activities for the boys of the town (who are nowadays termed Baby Boomers). There were quite a few of us, for such a small town population. So Lisle and one other father got the ball rolling to start the 1st Tooradin Scout Group. Lisle took on the roll of Scoutmaster and the other father keenly accepted the Assistant SM's position. Simultaneously Lisle also inspired his female Junior School Teacher to start a Cubs Pack. The formation of these two parallel groups was a much- appreciated achievement which brought the community together. The other annual 458 Squadron social event to rival this was Cuthy's at Burrumbeet. Gordon Cuthbertson and his wife Peg and their boys had a sheep farm just west of Burrumbeet, and every year entertained us all with a hay ride, sheep catching competition and enough keg beer to sink a battleship! Cuthy's was ALWAYS looked forward to by us kids!
From Tooradin, Lisle transferred to Guildford, just south of Castlemaine at the beginning of 1966, and that ended the annual Christmas Do. In 1970 Mum, Dad and Tim moved to Ballarat for Pat to be closer to her family. Lisle continued to teach, but later opted for a cushy little job in the District Office, from whence he retired.
Pat passed away in October 1985, just 65 years of age and Lisle died in May 1993 at not quite 73.