Flight Lieutenant Russell Clare Scott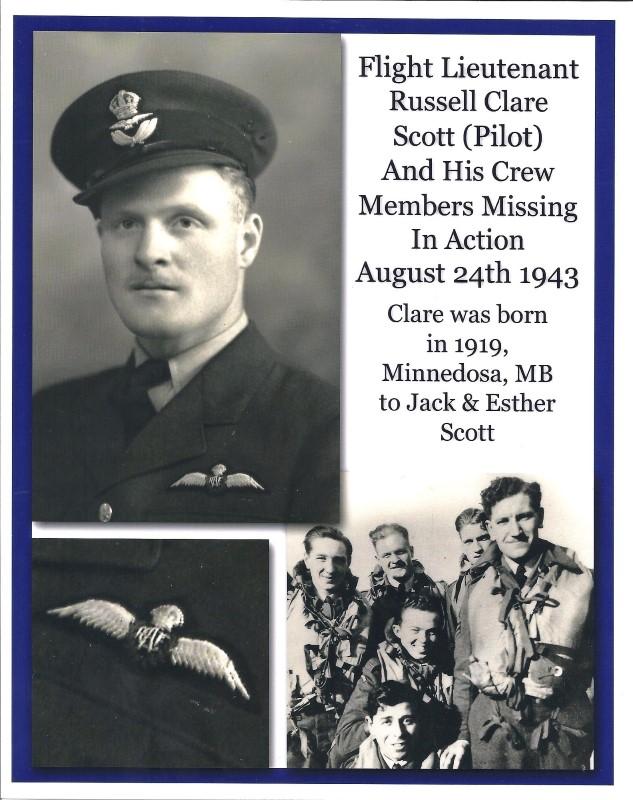 Date of Death: 24 August 1943
Source: AWM 64 1/280 Commonwealth War Graves records
Aircraft Type: Wellington
Serial number:
Radio call sign: FU -
Unit: 458 Sqn RAAF
Summary:
The 458 Sqn ORB records "On the night of 23/24th August 1943 four Wellingtons of this Squadron were despatched between 1956 hours and 2158 hours to carry out an offensive shipping search on four allocated areas. PO Scott and crew were allocated the Civitaveschia- Elbe- Leghorn area , but the aircraft failed to return to base.
At 2300 hours one of our other Wellingtons intercepted a message from Scott's aircraft requesting instructions but the message was not received by base. At 0155 hours Hqrs Group received a message from the aircraft requesting instructions and at 0200 hours Group replied that it had nothing to communicate. When the aircraft became overdue Group and Malta attempted to contact the aircraft by W/T for a considerable time but without success."
Crew:
RCAF Flt Lt Scott, R C Captain (Pilot)
RCAF FO Brechin, M L (2nd Pilot)
RAF FO Hillen, J (Navigator)
RAF Sgt M E Windsor, (Wireless Air Gunner)
RAF Sgt W E Dixon, (Wireless Air Gunner)
RAF Sgt J Whittaker, (Wireless Air Gunner)
No trace of the missing crew were found and their names are commemorated on the Malta Memorial, which is situated in the area of Floriana and stands outside the main entrance to Valletta, Malta.