Eric Thomas Munkman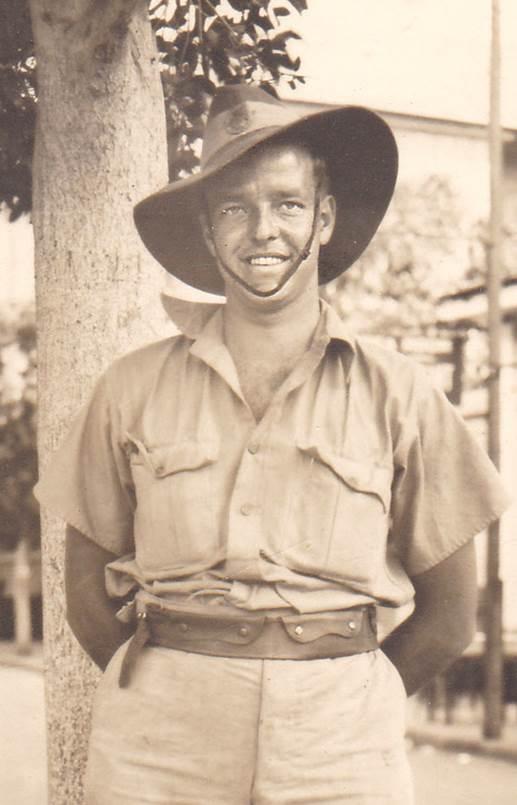 Eric was born in Chatswood, New South Wales and lived in that area until the beginning of the war. He attended Chatswood Primary School until 6th class by passing the Q.C. He then went on to Crows Nest Commercial School. On reaching 14 years of age, he left to seek employment, this being the tail end of the depression. He had happy memories of his growing years - wandering through the bush, swimming, fishing, football, selling newspapers to the fish shop, holiday time going from door to door selling gum tips and wild flowers to get pocket money.
He managed to get a job with a shipping and transport company as a delivery boy. He often said he was the fastest delivery boy in Sydney, scaling trams and hopping on the back of horse drawn wagons. He had to work long hours governed by the arrival and departure of ships. It was nothing for him to work 50 to 70 hours a week - no overtime. He received 2 shillings and sixpence for tea money with which he would buy a pie for 6d and save the rest. He was an assistant secretary when he left in 1940 to go into National Service.
On discharge from that he joined the R.A.A.F. and was asked what he did in "Civvie Street" - he answered "clerk" to which he received the reply "Good, you're in, we need clerks". After all, the pen is mightier than the sword.
It was at this point he met Dorothy - the love of his life.
He attended Maths classes in the evening hoping to re muster to air crew. He did his rookies at Richmond, then posted to Bradfield Park for clerical duties and then posted to Williamtown to be sent overseas. He often felt it was a blessing that he was not appointed to air crew.
Things were looking pretty grim and he left Australia on the 8th August, 1941, with 37 other ground crew which formed the nucleus of 458 Squadron and sailed on the "Awatea" via Auckland to Vancouver, then embarking, going across Canada to Halifax by rail, a journey of 5 nights and 6 days eating and sleeping where they sat. They then boarded the "Louis Pasteur", which was a pretty tough trip. They arrived in Greenock, Scotland, once again boarding a train to Bournemouth. His first impressions of England were poor, cold and thick fog, visibility zero and to top it off all his kit bag was lost and never found, losing all the mementos he had been given by his loved ones plus all his kit. They were billeted for a short period and then their next move was to York to be stationed at the aerodrome near the village of Holme on Spalding Moor, The squadron was being equipped with Wellington "Wimpy" bombers. His first impression of these aircraft was the size compared to those back in Australia.
The squadron was built to full strength with Aussies, English, Canadians, New Zealanders and South Africans. The operational duties were bombing Europe when the weather permitted. The winter of 1941 was the coldest for 50 years. After 6 months of operations they were shipped out to the Middle East with other troopships escorted by cruisers, destroyers, and flack ships being the largest convoy to leave at that time. In the M.E. they were stationed at Fayid awaiting their aircraft being ferried out from the U.K. This took some time and in the meantime they serviced an American squadron who had no ground crew. Then the squadron was reformed operating from dromes across North Africa, Sardinia, Italy and Gibraltar,
He arrived back home in July 1945 after 4 years away and within 3 weeks was married to Dorothy, enjoying a partnership for over 65 years.
They moved to Kogarah, renting a room in a house as it was hard to get a home at that time. He worked for the Repatriation Department for a short time, bought himself a 5 ton truck, which he said was a bomb. Not happy with that he joined the family building business, finding this being his niche. He finally retired at the age of 65 years.
He never lost touch with the Squadron. It continued on as a branch of the Air Force Association. He joined the committee in 1949 and became President in 1970. He organised 2 overseas reunions and 5 within Australia. He always loved the comradeship in the squadron.
In 1995 he was selected to represent the R.A.A.F. Ground Crew in the "Australia Remembers" contingent overseas to celebrate the 50 year cessation of hostilities in 1945.
After many years living at Willoughby and Forestville he and Dorothy decided to retire to the War Vets at Narrabeen in 1995. They continued to volunteer and worked tirelessly in the village making new friends and helping to raise funds.
Over the years Eric was awarded life membership of 458 Squadron Association, Life Membership of Willoughby Social Golf club and awarded 50 year Recognition Certificate to the Masonic Lodge. He was a very committed man.
Eric and Dorothy raised 2 children, Ron and Beryl, and were very proud of their 5 grandchildren and their 8 great grandchildren. Mum and Dad are loved and very much missed by their family