Kenneth James Leslie.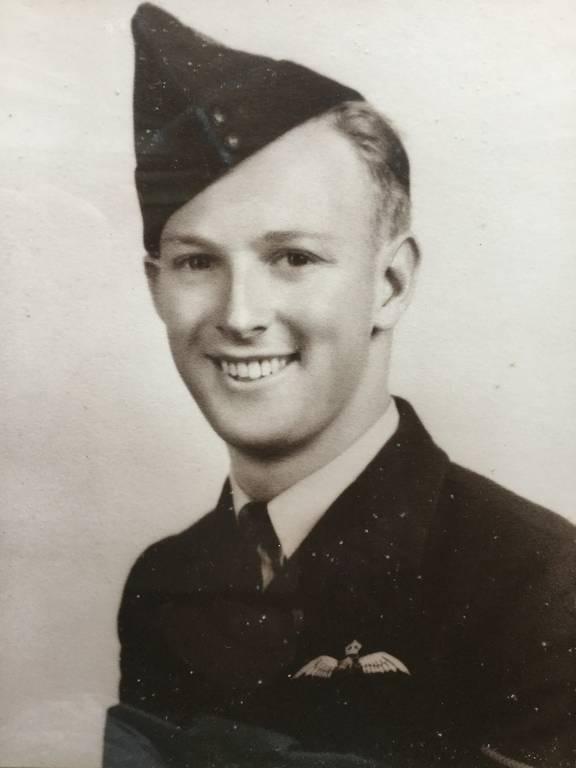 FLIGHT SERGEANT 419785
Kenneth James Leslie was born 1 May 1922 at Coburg, Victoria. He was the second son and child to John and Ethel (Thornton) Leslie. His elder brother was Alfred John (1921-2009), his younger sister was Kathleen Margaret (1926-1976), and younger brother is Donald Henry born 1931. John Leslie had served with the AIF in France 1915 to 1918 and Ethel Thornton had served with the Women's Auxiliary Air Force. Following the war, they met in England and married before making their way to Australia on the SS Bremen and settled in the Melbourne suburb of Parkdale, where Alfred and Kenneth were born and began their schooling at nearby Mentone Grammar. With the Depression, the Leslies left Parkdale, moved to Hampton where Ethel's brother and a sister lived, before settling in Coburg.
Kenneth was a handy athlete and his sporting pursuits included football, cricket, soccer, tennis, athletics and swimming, holding his Bronze Medallion from the Royal Lifesaving Society. Along with his elder brother, Alfred, Kenneth represented Victoria in junior soccer. Together, they also attended University High School in Parkville, Kenneth from 1933 to 1937 and he successfully completed his Intermediate Certificate in English, History, Science, Arithmetic, Algebra, Geometry and Trigonometry, French, Latin and Drawing. In 1938 and 1939 he studied for his Leaving Certificate at the college of George Taylor and Staff and received passes in English and Mathematics 1 in December 1939. From there, Kenneth took up a position as an estate agent's clerk at the firm of G. J. Gillies. At the same time, he pursued further studies with night classes at Melbourne Technical School over the following two years, studying Structural Engineering and Drafting.
Shortly after the beginning of the war, the Leslie family moved to Stawell in western Victoria. From there, Kenneth joined the Australian Army as a sapper on 5/11/1941. But that was not where he wanted to serve. His father was District Area Recruiting Officer in Stawell and Kenneth persuaded him to do whatever he could to find a way across to the RAAF. Consequently, Lieutenant John Leslie certified Kenneth's Application for Air Crew in April 1942. Kenneth was enlisted with the R.A.A.F. on 30/10/1942 with service number 419785. His initial training took the following course:
RAAF Somers (1ITS) 30/10/1942 (Rank AC2)
RAAF Temora (10EFTS) 3/2/1943 (Rank LAC)
RAAF Bradfield Park (2ED) 8/4/1943
After five or so months in the R.A.A.F., Kenneth married Jean Mary Lee at the Coburg Presbyterian Church on 12/4/1943. By the end of April, Kenneth was on his way to Canada to continue his flying training.
Attachment to RCAF 30/4/1943
RCAF Vulcan (19SFTS) 17/5/1943
Awarded pilot's flying badge, made Sergeant 17/9/1943 (Rank Sgt)
Special leave was granted to Kenneth for the period 18/9/1943 – 2/10/1943. Presumably, this was timed to provide a break between R.C.A.F. training in western Canada before the move to the east coast. Kenneth made the journey via California where he visited Hollywood and then across to New York, before heading north to the new posting at Prince Edward Island, Canada.
RCAF Summerside (1GRS) 1/10/1943
Attachment to RAF and embarkation from Halifax for the UK 26/12/1943
Disembarked UK 3/1/1944
RAF Brighton (11PDRC) 4/1/1944
RAF Banff (14(P)AFU) 15/2/1944
RAF Heaton Park (5PDC) 16/3/1944
Made Flight Sergeant 17/3/1944
RAF Middle East Command 23/3/1944 (Rank F/Sgt)
RAF Heliopolis (5ACRC ME) 25/3/1944
RAF Jerusalem (1ACRC ME) 3/5/1944
RAF Ein Shemer 6/5/1944
RAF Almaza (22PTC) 23/7/1944
RAF Algiers (1BPD) 12/8/1944
458 Squadron 19/8/1944
Assigned to 458 Squadron 22/8/1944
At the time of his assignment the 458th Squadron was based on the island of Sardinia. Soon after, it was relocated to Foggia on the southern mainland of Italy, just south of the retreating Germans. From the Squadron ORB it appears that Kenneth's first mission flight was on 14/10/1944 in an armed recce in the Gulf of Venice. Then his second on 24/10/1944. On the 15/11/1943 there was the first flight as Second Pilot and with the crew that would remain together for flights on 2/12/1944, 11/12/1944 and 13/12/1944.
From the 458 Squadron ORB:
On the night of 13/14th December [1944], six Wellingtons were despatched on Armed Recces. from Maestra Point coastwise to Salvere. The Captains were W/O. Richards, W/O. Cameron, W/Cdr. Mackay, W/O. McCann, W/O. Drinnan and W/O. Simons. There were no hostile sightings. The weather deteriorated during the patrols and three of the aircraft were diverted to Falconara. Two of them landed safely there. When W/O. Simons arrived over Falconara they were unable to permit him to land and at 0810 hours he was diverted to Jesi the next aerodrome which is about 7 miles away. It appears that the aircraft overshot Jesi and crashed into a hillside. Later this aircraft was found burnt out 10 to 12 miles Southwest of Jesi. All the crew were killed. The names of the crew [Wellington NB864] are as follows.
A.416371 W/O. G.G. Simons. Captain.
A.419785 F/S. K.J. Leslie. Second Pilot.
A.425388 W/O. J.H. Watson. Navigator.
A.420068 W/O. H.S. Shying. Wireless Operator.
A.427457 W/O. R. Ellis. SE Operator.
A.427504 W/O. P.J. Farrell. Rear Gunner.
All of the crew are buried in the Ancona War Cemetery, Italy.