Flying Officer Eric John Jewell
Eric John Jewell was born on the 10th of June, 1921 to Hubert and Caroline. With his sister, Dora, Eric grew up on a wheat and sheep farm at Invergordon just outside Numurkah. A childhood bout of pneumonia meant that his health was strongly protected by both his parents. Eric and Dora would share a horse when making their daily journey to and from Invergordon State School. They continued their education at Shepparton High School and Eric, in due course matriculated gaining his Leaving Certificate, as was the practice then.
In 1938 he came to Melbourne and joined the Commonwealth Public Service as a junior clerk. There he was appointed to a position with the then Department of Civil Aviation. Civil, at the time, was a branch of the Defence Department but in Eric's post-war employment there it became a Commonwealth Government Department in its own right. In 1939 he commenced Bachelor of Commerce studies part-time at Melbourne University. At that time he visited the St.George's Presbyterian Church Manse in East St. Kilda. (The Jewell family had previously had Methodist association.) There he met Rev. Samuel McKenzie, his wife Marjorie, and their children David, Elizabeth, and Moira. Thus began a "foster" family relationship which continued throughout Eric's life. Finding his student accommodation not really satisfactory, he boarded with the McKenzies in Cintra Avenue and chose to become involved in several aspects of St.George's church life, including a period of service on the Board of Management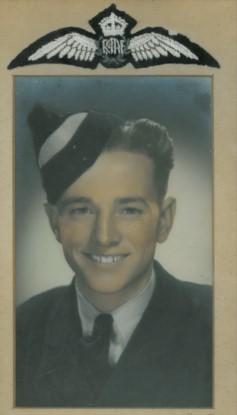 Against his parents' wishes - they were very mindful of his childhood illnesses - Eric enlisted in RAAF aircrew during 1941 and trained in Australia as a pilot. He remained on reserve within Australia until the following year when he was posted to Great Britain. He served for three years with 458 Squadron RAAF which operated as part of British Bomber Command. With 458, which operated Vickers Wellington twin-engine bombers, Eric and his colleagues saw service in the UK, Middle East, North Africa, and around the Mediterranean. He and his aircrew mates survived more than a few "heavy" landings including one which saw an almost catastrophic undercarriage failure. As a second pilot Eric had an excellent view of their many operational activities. A great number of 458's missions involved hunting for enemy submarines and so the much-loved ""Wimpy" bombers were fitted with belly lights for night-time operations. Much of this activity was recorded in his friend and colleague Don Charlwood's book "No Moon Tonight".
Eric's wartime service record is available for viewing at the National Archives of Australia website: view digital copy type in his service number & name: 410161 Jewell (in the search line, top right)
In 1946 he was discharged from the RAAF and returned to Melbourne to complete his B.Com, now full-time, over two years, under the Commonwealth Reconstruction Training Scheme. On completion of his studies, Eric resumed work with the DCA in their Melbourne headquarters. He worked predominantly in personnel administration (Today he would have been known as an HR Manager.) where he rose to the position of Senior Inspector-In-Charge, Recruitment. This work was interrupted by a life-threatening diagnosis of Tuberculosis which resulted in a number of lengthy spells in the Repatriation General Hospital, Heidelberg and the Convalescent Home in nearby Macleod. Some of his drug therapy was certainly at the experimental edge of medical care and many advances in TB treatment were made as a result of the work with Eric and other war veterans at Heidelberg. Family members undertook many trips to visit Eric at this time. TB and the hazards of air activities during the war had left Eric with greatly-reduced lung function, total deafness in his right ear and severely-affected hearing in his left. Eric was forced to adjust to life using a hearing aid and the routine of battery changing, cleaning and regular hearing tests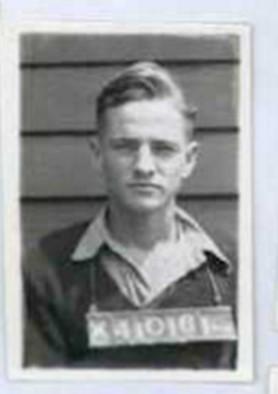 Eric had continued his association with the McKenzies after the war. Following Rev Samuel's death in 1948, Marjorie and Moira, together with Eric, moved out of the St.George's Manse around the corner to Odessa St. Eric continued to enjoy his hobbies including his beloved stamp-collecting, landscape and wildlife painting, travel and photography. These latter two developed into a passion with huge numbers of albums stacked wherever space could be found. Over an eighty year period he managed to fill scores of photo and stamp albums and also countless scrapbooks with postcards and other small memorabilia from his travels. During the 1950s Eric took a break from government employment working with the Stokes Silverware company in both design work and sales.
After a short period, however, he returned to Civil. By the 1960s Eric, along with other senior DCA staff, was involved in many overseas trips to destinations such as Canada, New Zealand, South Africa, Papua-New Guinea, and ten times to the UK, seeking to recruit aeronautically-experienced candidates for Air Traffic Control training in Australia. These trips and the resulting recruits assisted greatly in the rapid expansion of Australian aviation and the industry's impressive safety record. They also provided countless opportunities for Eric to extend his photographic talents and, when in the UK, to visit foster-sister Elizabeth ("Betty" to family) and husband John Newman and children Kim, Simon and Deborah.
In 1967 Eric moved from East St.Kilda to his own home in Derby Street, Laburnum, near Blackburn, built as part of the War Service Homes Scheme, next door to the house his parents, who had retired from farm life, and sister, Dora, had built. (Hubert had died two years earlier.) Marjorie McKenzie, who had provided a home and foster-mother role for Eric for almost thirty years, moved with him as she had earlier in the 1960s finished her work with the old Mutual Store in the city. For thirteen years Eric was a train commuter - into the city from Laburnum each day, then home again in the evening. In 1980 Civil Aviation was amalgamated with the Federal Department of Transport and a move to Canberra loomed for Melbourne staff. Not wishing to relocate, Eric, in his own words, "more or less elected to retire on medical grounds"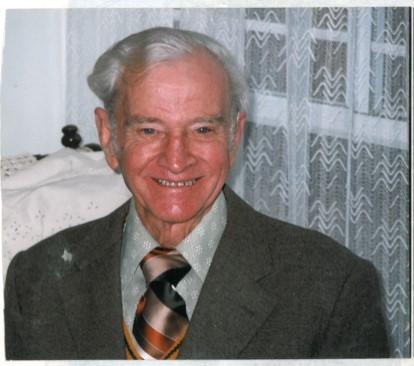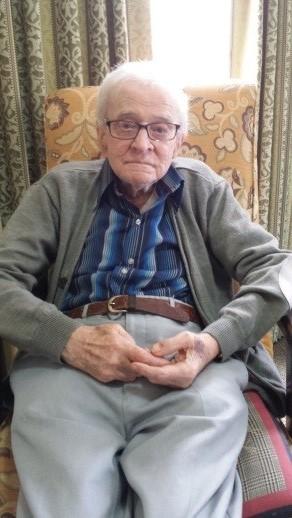 Eric and Marjorie enjoyed numerous picnics and drives to nearby country destinations. The Dandenong Ranges along with the Mornington Peninsula were favourites. In 1987 Marjorie died and Eric undertook a number of tours with various groups such as Young At Heart. On one activity he met an RAAF officer's widow, Moira Esler, who also enjoyed travel. They undertook many local and overseas tours and cruises together and Eric, of course, continued to fill even more photo albums. Mindful of the difficulties in obtaining travel insurance for older travellers, Eric and Moira very reluctantly limited their time together to weekly visits which would often involve a meal together at a suitable eastern suburbs venue followed by an afternoon of Scrabble games and jig-saw puzzles. Following a severe stroke five years ago and resultant hospitalisation and three months of after-care, Eric moved to Brimlea Aged Care where he enjoyed the largest upper-storey room in low care overlooking leafy Railway Avenue, Murrumbeena. For several years Eric continued to enjoy filling scrapbooks with photos, post and greeting cards, colourful magazine and newspaper cuttings and other small items. He continued weekly letter writing to travelling companion Moira who eventually moved in to Vasey House Aged Care in East Br
In Eric's recent years one of his main areas of Interest were his wartime recollections, whether through sharing his memories or by looking at his extensive collection of wartime photos. Eric enjoyed visits from 458 Association members as well as those of a local RSL representative. The following is a poem written by Eric in Memoriam to a childhood friend killed in an air accident in Queensland, Australia. Note, this is Eric's handwriting.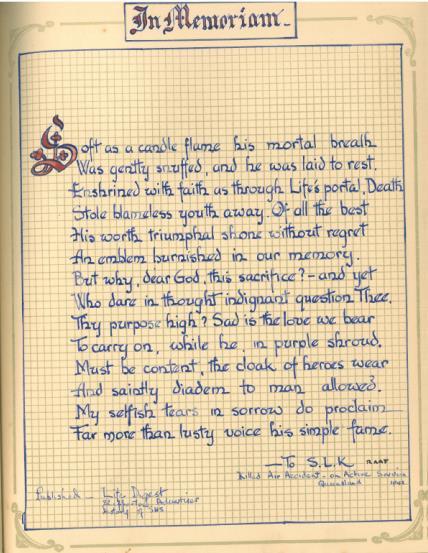 This recollection of Eric's life is presented by Steve Gray. Eric slipped peacefully and gradually away being bed-ridden for his final four days until his passing on 10 November 2015, the evening before Remembrance Day.
We honour the passing of one of the last surviving Victorian members of 458 Squadron RAAF, a faithful son and brother, a loving and kindly-benevolent foster-brother, uncle, and great-uncle. A life well-lived. Rest in peace, Eric. Eulogy by Steve Gray.
This Vale to Eric is also published in Newsletter #253, December 2015