Thomas Henwood Hicks Pilot Officer. RAF 1483508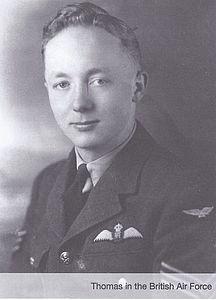 In 1921, Thomas Henwood Hicks was born into the Hicks family on his father's farm, called 'Trevilgus' in St. Issey, Cornwall in the UK. Thomas' full name was passed down from his father and grandfather when the Hicks and Henwood families came together as one.
Thomas was a well-behaved young boy and seemed to be fascinated with planes from a young age.
"When I was 6 years old, in our local town we had a WWI pilot with a WWI aircraft taking people for trips. I drove my mother mad until I was 6 so I could ride in this plane," said Thomas
".. .I [eventually] had my flight! The thing I remember about this flight was that my cockpit didn't have a floor and I could look out and see the ground underneath!"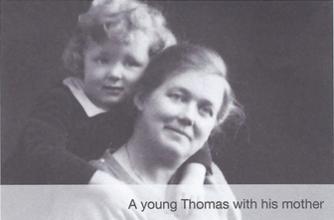 Thomas's parents were determined not to raise a spoilt child, starting Thomas at boarding school only 25 miles away from the family home.
At boarding school, he met one of his best friends Percy, who would change his life - more on that later! After graduating school Thomas persuaded Percy to follow him to university.
"We went to Liverpool University, School of Architecture... we stayed there and then the war started. That was it, we had to sever our university training to join the forces," said Thomas.
With a love of flying Thomas joined the British Air Force and started training to become an operations pilot.
"Before I was posted to my Air Force job, I met an Australian in England at our assembly point who didn't drink beer. And because of that we sat in the corner and drank gin and tonic while the rest of the mess drank beer!
"Nick and I got on very well... he taught me all the most wonderful evasive tactics to avoid being shot down by German night fighters, and that was oneof my lucky breaks in life - meeting Nick... If it wasn't for him, I don't think I would be 100 today!"
Thomas spent five years in the Air Force, with his most memorable deployment being a pilot for operations cutting off supplies to the German Army in North Africa.
"I belonged to the night torpedo squadron and our crew was responsible for finding the German ships at night with radar equipment... and when we found them, we threw 6 flares behind the enemy target, so that the people in the torpedo aircraft could drop the torpedoes and we were very successful!
"It took 3 months, but eventually the German commander reported to Hitler, that he was withdrawing German troops from North Africa because of supply problems. We served a purpose and got the job done; they had been causing a lot of trouble there!"
Thomas recalls a humourous incident (but not at the time!) during that memorable deployment with 458 Squadron. Bruce McKenzie as far as I was concerned was a wonderful Commanding Officer, the reason being was shortly after I got to the 458 one of the crew decided to go for a swim and that meant a trip of 60 miles over rough ground not on proper road down to the beach. So he said to me I want you to do the air test before we go down there and will check our radios and all that for the operations tonight, so off they went and after sometime I thought I will go down and visit those blighters down on the beach.
Well I got there I saw an American truck full of Americans on the truck with sides 6' high around made out of slatted timber and I did a low fly straight into the nose of the truck and all these Americans jumped over the 6' high sides and ran all directions. What I didn't know was the CO McKenzie went on the same trip and saw it, when I got back to my tent that night I had a note to say the CO will see you at 10 o'clock in 2 days' time.
Those 2 days with the hardest 2 days of my life, I couldn't think of what sort of punishment I would get, so at 10 o'clock on the day of question I turned up to Bruce McKenzie's tent and he said "come with me" and he followed me to our own aircraft which didn't have dual controls and he said "I want you to take me out, if you think you can low fly I'm going to teach you to REALLY low fly so the spray from the propellers comes off the sea!" So we got over the sea and he said go down, down, down, go down and I want you to stay there until I tell you too come up and God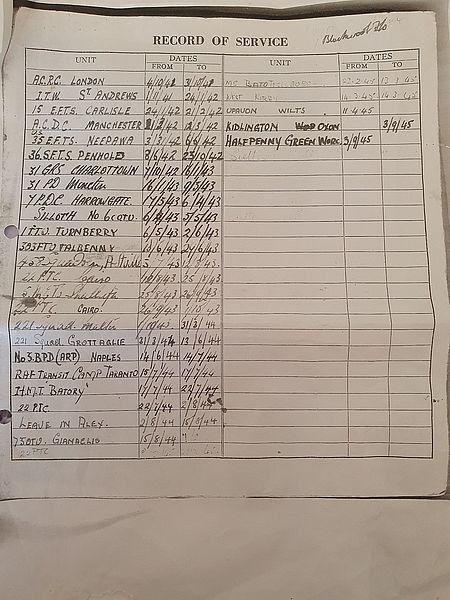 I don't know how long I was there but it felt like hours we were right down very close to the sea and the spray was coming off the tips of the propellers.
So my only punishment was the CO teaching me to fly at sea level! I thought I was going to go to prison or something terrible. But nothing happened like that so Bruce McKenzie from me was in the highest level and I think the reason I did the low fly was because all the Americans, when we met them they were all telling us how they were winning the war and putting us in the background so this is why I thought I give a stir up but I didn't think I would see them jumping over the 6' high surrounding; these 6 foot high surroundings on trucks were put there because when they went to native villages in North Africa if they stopped the children would be over the top and throwing out anything inside.
Thomas's best friend from school unfortunately did not make it back from his stint in the Army, but still managed to change Thomas's life forever.
"I had an airletter from my great friends' sister, to say that her mother and father were very stressed because they normally had a letter from their son once a week. However, they hadn't had a letter for 5 weeks. She was anxious to know if I received any information from him in the last 5 weeks. Well I hadn't, but only 4 or 5 days passed and I had another letter from her to inform me that her brother had in fact been killed in Burma," said Thomas.

"By this time my friend's sister had become a member of the Royal Canadian Air Force... when I came back from the east, I decided I should go and offer my condolences to his sister. I diverted my route home through London where I went to the address that I had on the envelope to express my condolences."
Amazingly, when they met sparks flew for them both! Within days they were inseparable.
"I don't know why but we fell together quite quickly, almost instantaneously, as we were able to communicate well... It wasn't more than 6 months between courtship and getting married," said Thomas.
After the Americans dropped the Hiroshima atomic bomb his job in the air force ended. Thomas resumed his university degree in the UK and completed his Architecture course.
One of the highlights of his life was having two sons and two daughters with his beloved wife, Joan, whilst still living in the UK.
"I've had some great happy moments in my life- my children have always been wonderful and are still wonderful," said Thomas.
Thomas was a very ambitious person, working his way up to starting his own Architecture practice in the 195o's. Eventually England went into a financial crisis, so he thought they'd go to 'the land of milk and honey' - Australia.
Finding a job that wanted to pay for relocation to Australia, Joan and Thomas made their way to Australia on the 23rd of December 1971. Arriving only to find Australia were also in a financial crisis and the company for the job he was to start went bankrupt.
On Christmas Eve they met a very influential character at their local church.
"One of my lucky breaks in life was on Christmas Eve after we arrived in Australia, we decided that we should go to church... When we came out after the service, we were on the road looking in all directions as we weren't quite sure which way we had to go to get back to our unit and we were approached by a gentleman who offered to help us. The gentleman in question was Richard Cleaver!"
"One of my big joys was meeting Richard Cleaver... and we became very good friends. He helped me a lot and I was always very pleased to return the help to him and his wife, Mavis." Said Thomas.
Thomas was quite the influential character himself managing to find a job at the City of Canning and meeting many nice people along the way. When the economy picked up again, he found himself working back in Architecture before retiring at 65.
In retirement, Joan and Thomas decided to build their own house in Boya - a suburb in the Perth hills.
"It was a good experience and we lived there very happily for about 25 years," said Thomas.
Unfortunately, Joan developed Dementia and the choice was made to move to SwanCare. When Joan's condition got worse, she moved and later passed at SwanCare Kingia, while Thomas stayed in the retirement living unit where he still resides today.
These days Thomas fills his time with reading books about his insomnia and using technology to speak to his kids (2 in the UK, I in Sydney, and I in Mt Barker, WA), IO grandchildren, and II great-grandchildren.
In terms of life advice and the secret to healthy ageing from the past 100 years of experiences, Thomas wasn't sure what he had to share but we teased out four main things.
"A good diet is the most important thing and of course having parents who have a long life. Don't throw your life away, like doing drugs, things that can destroy your life. Try to find the right people to be friends with to carry you through a particular period."
Thank you so much for having a chat with us, Thomas! Here's to many more healthy and happy years to come.