Christopher Henry Etherton. Leading (LAC) Aircraftsman 38239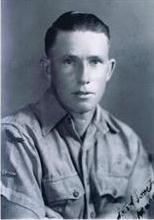 Christopher Henry Etherton
CHRISTOPHER HENRY ETHERTON
Henry, as he was called, was born in Northampton Western Australia on September 15th 1920. He was the second eldest of 8 children. The family farm was at East Bowes and all children walked 3 miles to school.
Henry left school at the age of 14 to work on a dairy farm for 5 shillings and keep a week. Rabbits were a big pest problem so he moved to a farm and was employed as a rabbit trapper. His next employment was on a station near Port Gregory where he was a 'jack of all trades'. His next place of work was on a wheat and sheep fam called 'Eastbrook'. There he stole the boss's youngest daughter Vera. He was there when World War 2 started in September 1939.
Henry volunteered at Northampton in the Air Force. Because he worked on a farm he was on reserve until March 20th 1941 when he was called up at age 20. He left Australia to join 458 Squadron on September 7th, 1941. One heroic incident when Henry was attached to the RAF in mid 1942 at Fayid, Egypt, he drove a burning fuel tanker away from an underground fuel bunker. He did this with no thought to his personal safety, only for those who would have been seriously injured or killed if the bunker went up in flames. This is one example of heroic acts by the Squadron's ground crew that drew little or no recognition. His next 4 and a half years were spent with 458 Squadron as an A/C ground crew. Henry was discahrged on January 29th 1946. Upon his reurn he purchased a farm and that was his life for several years.
He married Vera in August 1946 in Northampton. The enjoyed 61 happy years together. Owing to ill health he gave farming away and spent several years working for Massey Ferguson in spare parts in Geraldton and Perth until he retired. While in Geraldton he built our family house and a hall for the Girl Guides. We both moved to Perth in 1966.
In his retirement he spent his time in the gardens, fruit trees, roses and his hobby was restoring old toys into new for underprivileged chirldren. Henry passed away July 22nd, 2007. Survived by his wife Vera, 3 children, 8 grandchildren and 21 great grandchildren. He was a Pop to a step granddaughter and 4 step great grandchildren.
Henry made a wooden Wellington to scale with a 4 foot wingspan. It hung from the ceiling in full flight. This model and 2 albums of 1400 photos and 1 album of memorabilia, he has left to his family. The memories of 458 Squadron and his mates were a great part of his life.
Henry was very involved in 458 after we came to Perth in 1966. He was secretary for several years and was given a plaque on 6/5/1988 in recognition of his service. He was also given a certificate and badge for life membership on 26/3/1999.
Henry's story and photograqhs courtesy of his wife, Vera Etherton.